ELC Staff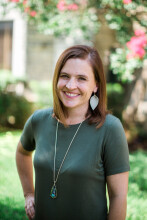 Sarah Brisco
Pre-Kindergarten Teacher
E-Mail:

Sarah grew up in San Diego and has a degree in elementary education from Baylor University. She Loves teaching Pre-K!
She and her husband Brian have 3 kids who have all attended the Early Learning Center: Luke, Carter, and Lila. Sarah taught several years in the Three-Year-Old class before taking a few years off after having Lila.
In her free time Sarah loves baking, crafting, and running.
Sarah's favorite Bible verse is, "Be strong and courageous! Do not be afraid or discouraged. For the Lord your God is with you wherever you go" Joshua 1:9.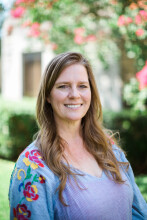 Sherrie Eppstein
Infants & One-Year-Old Teacher
E-Mail:

Sherrie began working in the nursery at her church when she was 13! She earned her Bachelor's Degree in Child Development from Texas Tech.
Sherrie has worked with young children in a variety of settings for 20+ years. Before she had kids of her own, she worked for an Early Childhood Intervention program working directly with families and doing assessments of children with developmental delays ages 0-3.
Sherrie has 2 high school aged children and a wonderful husband.
Sherrie loves working with preschoolers at the ELC!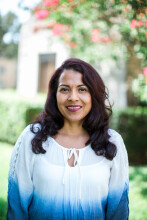 Milka Garcia Hurtado
ESL Teacher
E-Mail:

Milka was born in Panama. When she was 10 years old she moved with her parents to live in Colombia, where she finished school and university, graduating with a major in pre-school education. Milka then traveled to Spain to continue her studies in special education. She lived in Madrid for a long time, and eventually became a Spanish citizen. While in Spain, Milka reconnected with an old boyfriend via e-mail, they decided to marry and make a life together in the U.S. She moved to Fort Worth in 2018.
Milka originally came to the University Baptist Church to learn English, and while in the class she noticed that some of her fellow students brought their children, who would disappear and then return at the end of the class. Milka learned that these children actually went to the daycare onsite while their parents studied English.
Milka expressed interest in seeing the setup of the daycare, and was given a tour. Knowing her educational background and interest in childcare, her English instructor introduced her to the director of the program. Soon after, Milka began to volunteer at the ELC.Milka is very grateful for the opportunity to know the parents and all the wonderful people she has met who share her love of working with children.
Milka likes: dancing, singing, telling stories, and doing theater. She also like to read books on personal growth, leadership, and finance.
Milka often attends services at University Baptist Church. She feels very blessed to be a part of this loving community, and is very grateful for her co-workers and for all the wonderful people she has met at UBC.
Paulette Kolts
One-Year-Old & Two-Year-Old Teacher
E-Mail:

Paulette is a proud mom to four kids, Jarrett, Wylan, Hogan, and Kenley. She enjoys volunteering at her children's schools and the baseball booster club. Paulette is a member of University Baptist Church.
She has worked at the ELC since 2012 and often nannies ELC students when the ELC is not in session. Paulette is also a teacher in the early care and after care classes at the ELC and loves working with kids of many ages.
She is excited to be a teacher at the ELC!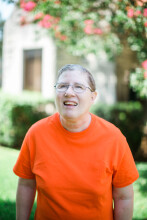 Vickie Mitchell
ESL Teacher
E-Mail:

Vickie grew up in Fort Worth, Texas and has lived here all her life.
She has been married to her Husband Hollis for 40 years. Hollis works at TCU. They have an older adopted daughter who lives in Amarillo. They also have a very unusual clingy cat named Willow.
Vickie is a member of University Baptist Church and has been working at the ELC since 2003. She loves working with the children at UBC and sees God's love through all of the children. Vickie considers it a privilege to care for the children and to know all the families.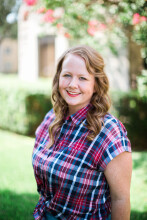 Ashley Perry
Three-Year-Old Teacher
E-Mail:

Ashley is originally from Louisiana but has lived in Fort Worth since 2005. She has been a teacher at the Early Learning Center since 2010.
She earned her degree in Family, Infancy, and Early Childhood Education from Louisiana Tech University (go bulldogs!).
Ashley is married to Austin and together they have three kiddos, two in elementary school and one at the ELC.
In her spare time Ashley likes thrifting for treasures, spending time with her family, being creative, binge watching tv, and listening to podcasts.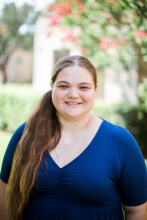 Taylor Thornton
Three-Year-Old Teacher
E-Mail:

Taylor grew up attending University Baptist Church and has lived in Fort Worth all of her life. She has worked at the church in the Preschool since 2009 and loves being able to teach and care for children.
This past summer Taylor was married at Scarborough Renaissance Fair. She and her husband Chris have a daughter, Krystine, who is a student at the ELC. They have two dogs, a beagle terrier mix named Brooks and a lab/pit mix named Coaline. They also have two cats, a tabby named Taylor (the name never changed from when she adopted her from the pound) and a tuxedo named Luna. They also have a blue half-moon male beta fish that Krystine named Fish.
Taylor is currently going back to school at TCC to get her Associate of Arts degree and transfer to UTA. She plans to major in History and become a secondary school teacher.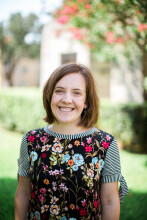 Megan Westmoreland
Two-Year-Old Teacher
E-Mail:

Megan has a degree in Child Development from TCU (go Frogs!) and has been teaching preschool since 2001. She is excited to be teaching at the ELC.
Megan enjoys spending time with her family and friends, cheering for the Houston Astros and Horned Frogs, going to the dog park and on walks with her dog Lucy, patio hangouts, trivia and game nights, reading (she love the Harry Potter series) and watching movies and TV shows.
Megan is passionate about children and their enormous potential. She knows that this early stage in their lives is so important- when they grow and learn so much about themselves and the world! Megan is honored to have the privilege to partner with the ELC parents as the children learn and grow.