Missionary Residence Gift Registry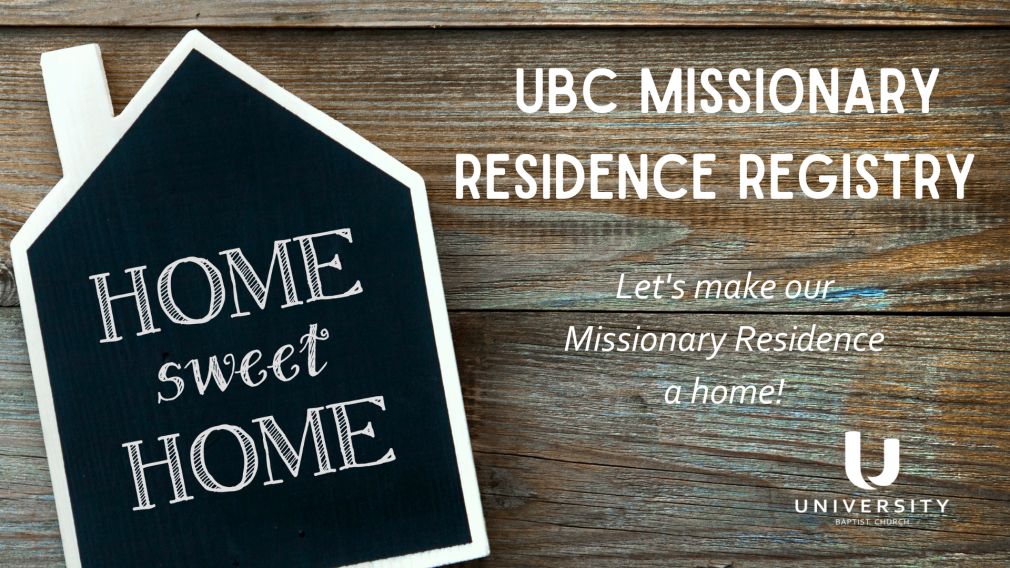 We are furnishing the Missionary Residence to become a wonderful new home for visiting missionaries while they are state-side! We are asking for donations to help make this vision possible. Deadline to donate is September 30th.
Three Ways to Give
1. Give online or by check.
Online donations can be made using the link below. Please make checks payable to University Baptist Church and write "Missionary Residence Furnishing" in the memo line. Checks can be delivered on Sunday morning or mailed to University Baptist Church, P.O. Box 101074, Fort Worth, TX 76185.
2. Shop the online gift registry.
We've made it easy! Select an item you'd like to provide using our gift registry. These home furnishings have been hand selected to suit the style and decor of the house. Please ship any items to your own home address and contact someone on our staff to arrange a time for delivery to the church. We cannot accept items sent to our physical address at this time.
3. Donate in-kind items.
We want to make sure any items that are donated fit the style and decor of the selected furnishings. If you have something that matches any of the items on the gift registry above, please email a picture and description to
"Having a place in the states to call "home" is an amazing blessing. To be able to have a place where the kids can have their stuff, to be able to entertain guests and family and just plain have a place to relax and spend family time together has made it possible for us to refresh while on stateside assignments. Staying with family and friends is fun while you're in the states but as most people know you can definitely outstay your welcome, and beyond that you need to have a space where you can establish your own routine as a family. We appreciate you and UBC working on setting up a home for missionaries like us, it's an amazing gift!" - Rachael Koch, missionary