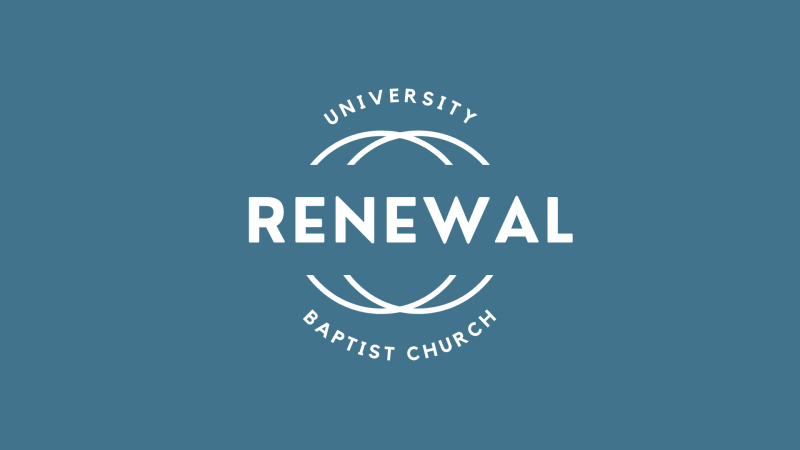 Everyone can experience bumps and bruises in the journey of life. When the bumps and bruises don't heal, when the mountains seem too big to cross and the mire too sticky to get out of, we need RENEWAL.
Can you envision being made new? Healed? Filled with hope, possibilities, and joy? If that is your desire, UBC's RENEWAL ministry may be the perfect fit for you. UBC's Renewal Ministry is a Christ-centered discipleship ministry based on the principles of healing and life transformation found in the Bible for anyone struggling with the brokenness that comes with life. Renewal and freedom are possible with the help of Christ and His word.
New life and freedom come through Christ, and it comes by working through steps of healing found in scripture. All who are tired, broken or hurting are invited to come find recovery in Jesus Christ.
We all hurt. How we deal with that hurt matters. Together we take it to Christ and find RENEWAL.
FAQ'S
When?
Meets every Wednesday, 6:30 – 8:00 pm.

Childcare is provided.
What?
Renewal

is a daily walk with God in small groups, men with men, women with women.

No matter where you are on your spiritual journey,

RENEWAL

is for everyone.

You don't have to be a Christian, or a member of UBC. You don't even have to want to be here — you just must be willing. God will do the rest.

Introductory materials (Groundworks) take about 10 minutes per day while step-group materials take a bit longer. The step study takes 8-10 months to complete.
Cost?
There is no charge to attend Renewal. Once you start the curriculum, you will need to purchase books for the group you are in (6-8 books total) Most books are $10-$15.
Who?
Everyone is welcome. God's steps of healing can free you from hurts, habits, addictions, struggles or hurts.

Groups are open for people to join at any time. Please complete a Renewal Ministry Interest form so we can be sure to plan for you.
Come see where the hope is!
"But when the kindness and love of God our Savior appeared, he saved us, not because of righteous things we had done, but because of his mercy. He saved us through the washing of rebirth and renewal by the Holy Spirit, whom he poured out on us generously through Jesus Christ our Savior." Titus 3:4-6