An Escape to Freedom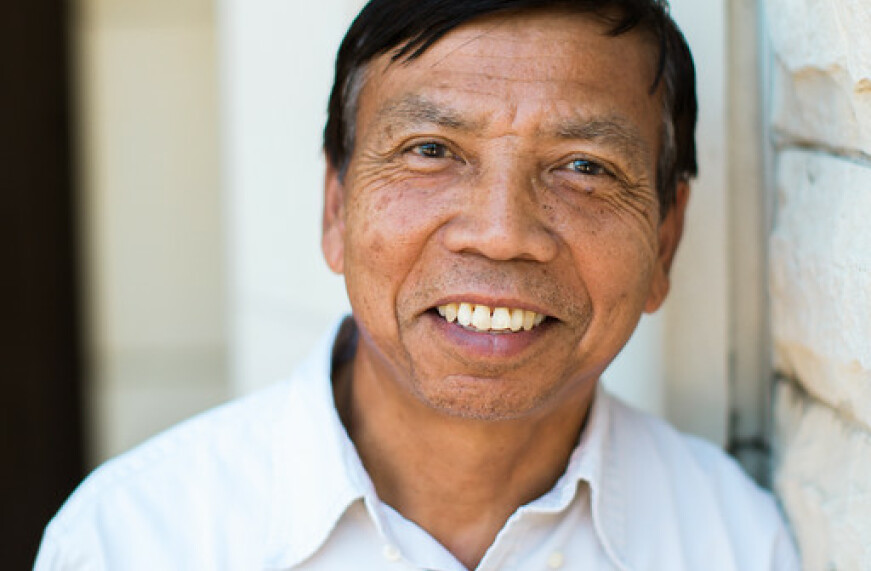 When Rindo Nong jumped into the back of a Red Cross truck in 1979, he didn't know where the truck was leading him. He was 21 years old. His country had been ravaged by genocide. The communist leader Pol Pot and his army, known as Khmer Rouge, had starved or murdered an estimated 3 million people, more than 25 percent of the population of Cambodia. Rindo's family had spent the last four years in a work camp, digging ditches from 7 a.m. to midnight with little more than a cup of rice to eat each day. As the truck pulled away, Rindo looked back at his homeland. "I'll never return," he thought. "Anywhere they take me is better than here."
He arrived in Thailand at a refugee camp, where thousands of Cambodians were living in tents and questioning the gods of their youth. It was in the middle of this desperation and chaos that God intervened. "It makes me cry but God saved my life, saved my family," he said.
Rindo's brother had visited a Christian church in the middle of the camp. He invited Rindo to come with him, but Rindo said he resisted the message of Jesus at first. His family was Buddhist. It was so much a part of his culture and home, he didn't know anything else. But one day, his brother brought a tract to the tent. The message of the cross would change Rindo's life. "I read it and I didn't know about my life or about death, or where my soul was going when I die," he said. "But when I finished reading it, I felt different. The Holy Spirit had called me. I had finally found the true God."

Rindo and his family spent the next two years in the camp in Thailand spreading the hope of Jesus Christ. They would go from tent to tent, telling people about Jesus. People were hungry to know about the real God, he said. During this time, he met his wife Sophorn who had also escaped Cambodia. They fell in love and were married in the camp. Her family came to know Jesus, as well.
In 1982, Rindo and his family were transferred to another camp in the Phillippines where they lived for another year while waiting for a sponsor to help them immigrate to the United States. Their daughter Rebecca was born there in that camp, just a few months before their sponsorship came in. They were approved to travel to the United States and live in Fort Worth, Texas in 1983.
Upon arriving in the states, Rindo hoped he could get a job in a church and prayed for God to provide. His first employment was at Cook Children's hospital, serving as a custodian during the night shift and on the weekends.
"I missed going to church," he said. "So I prayed God would find a place for me to work so I could worship Him on Sunday." Not long after that, he was led to an opening at University Baptist for the position of custodian. That was in June of 1984.
Now over 35 years later, Rindo continues to serve the church as custodian. He said he has seen a lot of changes through the years, and many of the people he has known have gone to be with Jesus. "But UBC has been good to me. I thank God for UBC and the help they give to me and my family."
John Fisher, UBC building engineer, said Rindo has made a huge impact on the church over the past 35 years. "Rindo never complains and always has a smile on his face," John said. "He doesn't have a mean bone in his body. He is the perfect example of someone who is always positive no matter his circumstances."
Not only does Rindo faithfully serve the church at UBC, but he leads a Cambodian mission church on Sundays at Travis Avenue Baptist in Fort Worth, as well. And he helped start his own organization, DJD Cambodia Ministries, with former UBC missions lay pastor Bryans Fitzhugh and former intern John Forsythe.
"God taught us to go back and spread the Good News of Jesus in Cambodia," Rindo said. He said when they first went back in 1997, he was afraid they would be killed. But he went anyway. "The people there, they don't know what they believe. They wonder why their gods do not help them. But some people, they don't like when you come to know Christ. They treat you like you betrayed them and your country. But they don't study or understand what they are doing. They just follow the tradition of their family."
Bryans Fitzhugh, co-founder of DJD Ministries, said Rindo is the one who introduced him to God's calling on his own life into missions. "Rindo lives the joy of his salvation. He smiles through it all. We have nicknamed him the Billy Graham of Cambodia. People love to see him when he visits because he's so positive, such an encourager. He's strong in his faith and he's strong in his work." - story by Jenny Pope
DJD Cambodia travels to serve the people of Cambodia every year, offering pastor training and children's ministry, rice, school uniforms and supplies. If you are interested in getting involved, contact Bryans Fitzhugh at