God Sustains Us Through the Storms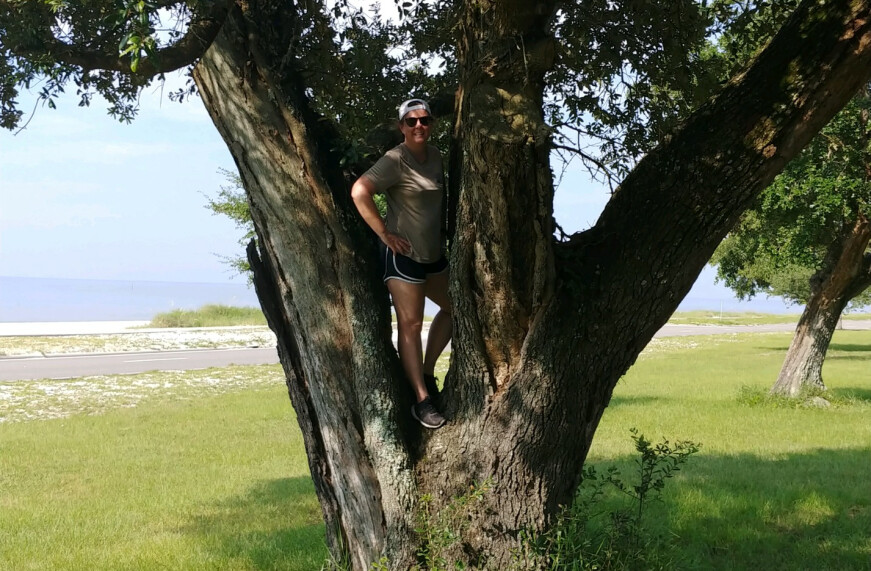 The first week in August, Steve and I vacationed on the beautiful white sand beach of Pass Christian, Mississippi. Our routine was predictable, slow and restful. We look forward to and thank God for the respite He provided during this time.
Our mornings began with a run down the coast, the ocean to our right, giant oak trees (some over 300 years old) to our left. Though much of the town was destroyed by Hurricane Camille in 2005, a number of these trees still stand - resilient, strong, rooted by the strength of God's mighty hand. I told Steve that my worries seem so small when I put them in the perspective of the vast ocean God spoke into being, the mighty oak trees He sustains that have weathered way more than I can imagine, and the pesky mosquitoes that God continues to love despite their peskiness.
With each trip to the Mississippi Gulf, God speaks to our hearts and always reminds us of His presence. This trip, the words of Psalm 103 seemed to be the ones my heart most resonated with.
Bless the Lord, O my soul,
And all that is within me; bless His holy name!
Bless the Lord, O my soul,
And forget not all His benefits:
Who forgives all your iniquities,
Who heals all your diseases,
Who redeems your life from destruction,
Who crowns you with loving kindness and tender mercies,
Who satisfies your mouth with good things,
So that your youth is renewed like the eagle's.
Psalm 103:1-5
There have been times when I felt like I couldn't make it through the storms of life, times when I felt like my life was destroyed and I didn't have the strength to stand. Yet, just as God sustained those mighty oak trees, He sustained me. He gave me hope when I thought there was none. He carried me when I felt I could not walk. He showed up to comfort me when I believed I was alone. And that is what He does. That is who He is.
This passage reminds me that God sees me. He sees you. He forgives, and He heals. The loving kindness and tender mercies He pours out upon humanity renews us, redeems us, and satisfies our souls. When we allow our souls to focus on blessing Him and His holy name, we are given the strength to keep going in the midst of brokenness, disease and destruction.
We are much more resilient when we focus on praising Him, when we remember who He is, when we look to Him for salvation, and when we allow our souls to believe that He can and He will provide.
When Hurricane Camile came, it damaged or destroyed 90% of the buildings in the area in nine short hours. And yet God, so rich in mercy, placed a hedge of protection around the tree in this picture (and many more), that even in the midst of a terrible storm, this oak would not be destroyed. And you, sweet friend, are even more precious to the heavenly Father than a tree. He loves you. He is with you. He sees you. And He will renew your peace and your joy.
In Christ,
Caroline