Poverty Didn't Keep Me From My Calling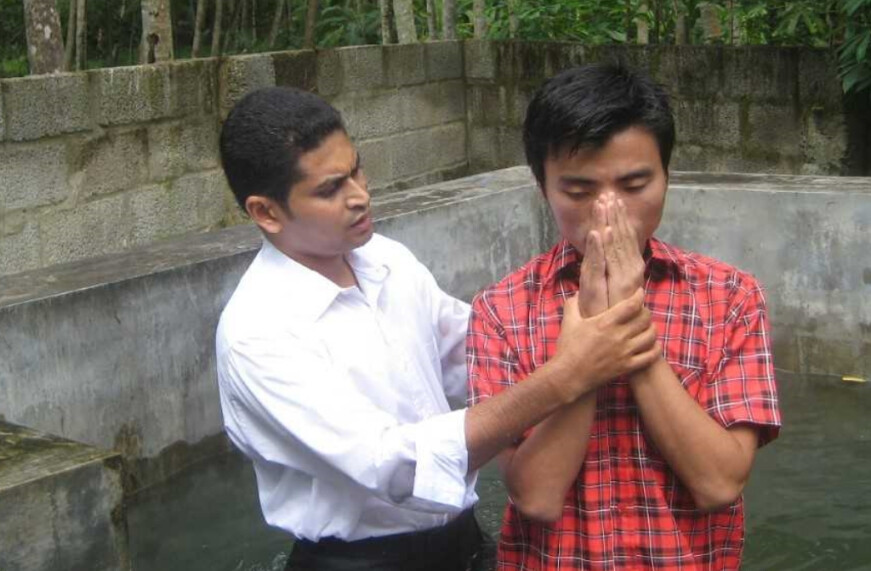 "Throughout nine long years of pursuing my education, I experienced a lot of uncertainty and darkness – blindness, debilitating back pain, poverty and abandonment from my family. I was even stoned once by Hindu fanatics and locked in a room to keep me from preaching the Gospel. But looking back, I now know that God's promises are true! I survived and became a Bible teacher and pastor. God's promises always gave me strength and kept me on track."
– Santhosh Puthuchirayil Chacko

"I started tapping rubber trees when I was 11 years old. Our family lived in a small mud house with no electricity or water. We slept on the ground covered with sackcloth and laid our heads on hay-filled pillows. Hunger and thirst plagued us every day.
"Our Hindu community made our lives even more difficult with threats, discrimination and mockery. My father's family turned their backs on us because my parents had accepted Christ and become members of the only Baptist church within 100 miles.
"From sixth to tenth grade, I rose early to work at a rubber plantation on a mountain. I would tap 60-70 trees before taking a river bath, and then I would run three miles to school. On those runs up and down the mountain, I talked with God and began to understand my calling to be an evangelist and preach the Gospel. My parents often hosted itinerant preachers. In those days, pastors were considered beggars, dependent on believers for daily needs. The years ahead of me would be an example of that dependency.
"Because my parents took me and my five siblings to church, we learned Bible stories and memorized scriptures. Through the help of my Sunday school teacher, I accepted Christ at the age of 9 and was later baptized. My parents chose my brother, their oldest son, to become a minister. So when I shared my desire to also be a preacher, they discouraged me. When my grandparents learned of my plan, they said, "Santhosh has lost his life!" Despite my family's response, I was convinced that my burning passion to share the Gospel was based on God's amazing plan for my life. God helped me realize that I had to pursue an education to prepare me for his service.
"After tenth grade, the Lord led me to a small Bible training center near my home. I arrived wearing my only set of clothing, carrying a small bucket, a few sheets of paper, a pen, my precious New Testament and Psalms Bible, and 30 Indian rupees (about $1 US). Many days I cried out to God to provide a refill of ink for my pen. Tuition was covered by my labor: taking care of cattle, working in the garden, doing domestic chores and going on daily house visits to take the Gospel to every town and junction. I earned my first Bible at that school, which I still cherish today.
"In 1995 I was admitted to Baptist Bible College & Seminary, 450 miles from my hometown. I arrived again with no financial support, and I was regularly fined for speaking my native language (Malayalam) instead of English. I paid those fines by drawing water from deep wells, chopping firewood, cleaning restrooms and washing dishes. As I labored and grew in my understanding of the English language, God continued speaking to me and growing my commitment to preach His Word. I was later accepted to a master's program in Bangalore, where I continued my studies while still living in great poverty.

"Throughout nine long years of pursuing my education, I experienced a lot of uncertainty and darkness – blindness, debilitating back pain, poverty and abandonment from my family. I was even stoned once by Hindu fanatics and locked in a room to keep me from preaching the Gospel. But looking back, I now know that God's promises are true! I survived and became a Bible teacher and pastor. God's promises always gave me strength and kept me on track.
"Now I work with Agape Royal Ministries as a teacher and I am the principal of Logos College of Theology. In 2016 I came to Fort Worth to complete my doctorate degree. My family has now joined me here, and we are happy to be welcomed by the community of faith at UBC. We continue to grow and learn as we work and live here. I truly believe that Jesus Christ is the only Savior, and I am blessed to be called to share that glorious truth wherever God takes me."