The Practice of Thanksgiving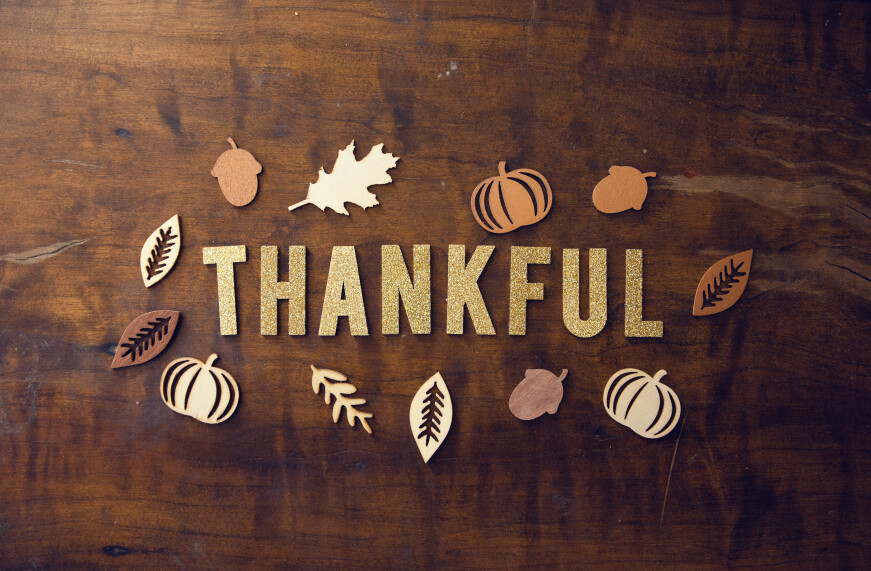 Happy Thanksgiving week, Church! I pray that your heart is full of thanksgiving and your words are praises today. This is the day. Today is the day that the Lord has made and given to us. We rejoice in that gift. We do not know what the day holds, but we know that we are held in the arms of God.
Thankfulness can sometimes be a tough subject to navigate, though. It does not always come as easy as we would like. This is likely because we have a misunderstanding of what it really is. Thanksgiving is not an emotion. It is a spiritual discipline and, as such, it is something that must be practiced. One simple way to practice thanksgiving is to name your blessings. Oftentimes we do this by saying something like, "Lord, I am thankful for today." While that is a great place to start, stopping there only robs you of the blessing of counting your blessings. When we name and number what we are thankful for, our understanding of God's goodness and favor grows.
James 1:17 says, "Every good and perfect gift is from above, coming down from the Father of the heavenly lights, who does not change like shifting shadows."
Every good thing we experience in this world is a result of the grace of God poured out over us. What are you thankful for? Generally we first list the things we enjoy: our family members, food on the table, a roof over our head, etc. Interestingly, just a few verses prior to this we find a different call to a spirit of thankfulness.
"Consider it pure joy, my brothers and sisters, whenever you face trials of many kinds, because you know that the testing of your faith produces perseverance. Let perseverance finish its work so that you may be mature and complete, not lacking anything." James 1:2-4
This year has been hard, and that is likely amplified for you this holiday season. Perhaps time normally spent in a house bursting with laughter and the aroma of favorite foods will be spent much differently this year. Maybe you have empty seats around your table, perhaps from travel restrictions or from loss. You are walking through a season of political and social unrest along with financial uncertainty. Yet here, in the verses above, James is calling us to consider these trials joy. This is the call of the Christian life - to fight against the unease, the brokenness, the heartache and darkness of the world. Joy is one of our weapons in this fight, Church. Thankfulness in the heart of a Believer is dangerous because against it the world has no power.
This is our hope. Our ultimate gratitude is what Christ has done for us. Our thanks are for the trials of this world because even they are being redeemed under His name. They speak to the depths of our souls, the place that knows this is not how things were meant to be. They produce endurance, which makes us complete in understanding. They testify to the fact that we have already received the greatest of all good gifts, a relationship with our Heavenly Father through the sacrifice and resurrection of Jesus Christ and the guidance of the Spirit in our lives.
Church, be grateful today for all the gifts you have received, both the welcomed and the trial, knowing all things find their place in Jesus Christ. - Jason Simon, Minister to Students